Aktuell hat in einem umstrittenen Artikel in Nature https://www.nature.com/articles/s41586-019-1256-6.epdf  ein Team von Google Research unter der Leitung von Matt Trevithick keine Hinweise auf kalte Fusion, oder irgendeine Low Energy Nuclear Reaction – LENR gefunden. Auch die seit 2011 laufende und wohl als unseriös zu bezeichnende Rossi -Saga verläuft sich im Sande und der darin über Tom Dardens Industrial Heat Projekt verstrickte Milliarden schwere Woodford Investentfonds ist ebenfalls in erheblichen Schwierigkeiten. Soweit also nichts Neues von der kalten Fusion, sie funktioniert nicht und alle die sich damit beschäftigen erleiden irgendwie Schiffbruch, da helfen auch nicht all die leisen Signale aus der seriösen wissenschaftlichen Forschung das LENR funktioniert.
Doch etwas hat sich geändert, denn auch wenn es sicher nicht die Absicht von Nature und Google war, aber das Thema kalte Fusion, Cold Fusion, LENR hat es grundsätzlich geschafft in Nature publiziert zu werden und gerade weil Google Research auf Grund ihres sehr begrenzten und offensichtlich nicht den aktuellen Forschungsstand berücksichtigenden Versuchsaufbau keine positiven Ergebnisse liefern konnte, regt sich in der sonst sehr stillen und zurückhaltenden Cold Fusion und LENR Gemeinde doch erheblicher Widerstand, aber auch eine Art von Aufbruchsstimmung, vor allem auf Grund eines praktisch zeitgleich mit dem Google Nature Artikel erschienen und über das LENR Forum veröffentliche Papier von Mizuno und Rothwell.
https://www.lenr-forum.com/forum/thread/6013-mizuno-reports-increased-excess-heat/?postID=112313#post112313
In dem Papier berichten und Rothwell ,dass durch kalte Fusion, oder LENR, bei einer Eingangsleistung von 50W 250W und bei 300W  2 bis 3 kW überschüssige Wärme  erzeugt werden. Des Weiteren enthält das Papier eine umfassende Beschreibung der Apparatur, der benutzen Materialien und der Methodik und  beide Forschen hoffen, dass dieses Papier es anderen ermöglicht, das Experiment zu wiederholen.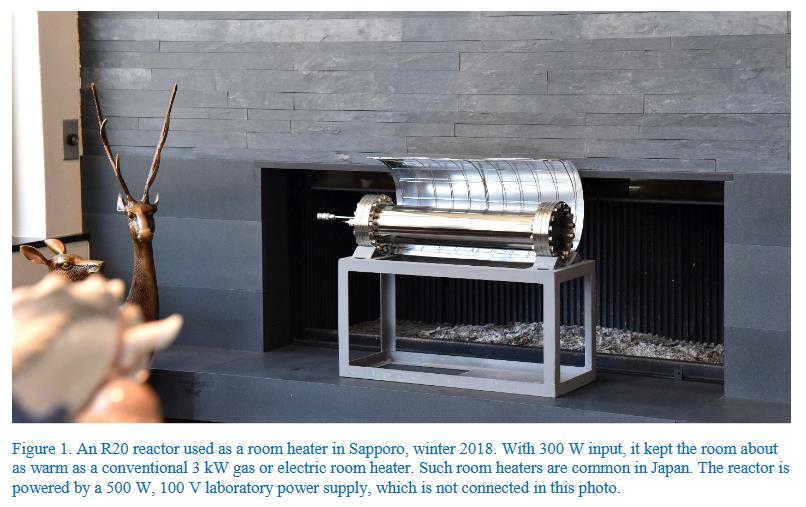 https://thenewfire.wordpress.com/lenr-coldfusion-game-changing-breakthrough-increased-excess-heat-from-palladium-deposited-on-nickel/
Eine Nachfrage bei Nature, ob dort dieses Papier bekannt sei ergab eine etwas barsche Antwort mit dem Tenor, dass 'die Autoren dieses Papier gerne zur Begutachtung bei einer der  Nature Zeitschriften einreichen können. Andernfalls werde Nature nicht darüber berichten, da die Geschichte der kalten Fusion ziemlich durchwachsen sei  und Nature nicht vor der Begutachtung durch Experten berichtet werde'.
Zumindest  Matt Trevithick von Google Research bestätigte, dass 'sein Team Kenntnis vom Mizuno-Papier hat und sie es als ständige Herausforderung ansehen zu entscheiden, welche nächsten Schritte sie als Nächstes gehen werden',  was immer dies auch bedeutet mag.
Wie sich jedoch aus dem LENR Foren Thread entnehmen lässt, gibt es derzeit erhöhte Aktivitäten rund um die Replikation des Mizuno Reaktors und es ist nur eine Frage der Zeit wann sich Google Research dieses relativ simplen Versuchsaufbau annimmt und eventuell die Geschichte der kalten Fusion ganz neu geschrieben wird, auch bei Nature.
To be continued …
Update 15. July 2019.
Inzwischen hat Google Research auf die Kritik der LENR Community reagiert und  fordert, auf Grund einer Initiative der Administratoren und Moderatoren des LENR Forums, deren User offiziel dazu auf Vorschläge an Google zu unterbreiten, welche Cold Fusion / LENR Projekte untersucht werden sollten und welche Kriterien ein Experiment erfüllen muss, um als erfolgreich akzeptiert zu werden.